Photoresistor Flame Sensor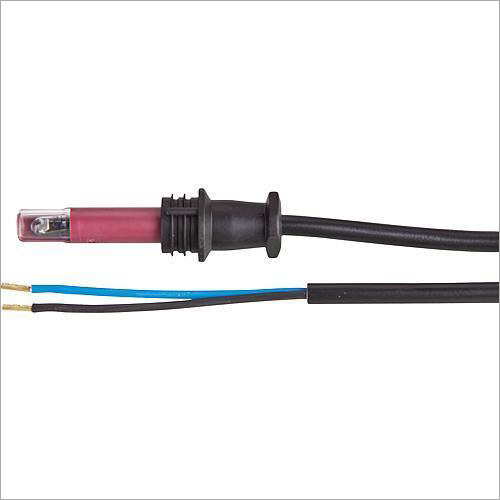 Photoresistor Flame Sensor
Price And Quantity
Product Specifications
Product Description
Photoresistor Flame Sensor is a highly sensitive semiconductor device that is commonly used within heat burners, boilers, and furnaces to detect the presence of high-temperature flames. This light-dependent resistor functions by changing the resistance in response to the intensity of light falling on it. The change in resistance of this device is detected by microcontroller systems to interpret the presence or absence of flame. The wired element of this sensor is made up of copper for quick signal transmission. This product has a sturdy plastic body that provides high strength-to-weight ratio with excellent heat and chemical resistance.
Photoresistor Flame Sensor Specifications:
1. Type: Flame Sensor
2. Voltage: 220 V
3. Cable Length: 700 mm
4. Resistance: 5-10 K ohms Approx
5. Operating Temperature: - 30 to + 70 Degree Centigrade
6. Power: 60 mW
Photoresistor Flame Sensor Advantages:
1. Simplicity and Cost-effectiveness: Photoresistors are simple electronic components that are easy to integrate into circuits. As a result, photoresistor flame sensors are relatively inexpensive compared to some other flame detection technologies.
2. No Active Emission: Photoresistor flame sensors do not emit any active signals or radiation to detect flames. They rely on the ambient light emitted by flames to trigger a response. This passive nature makes them less intrusive and suitable for environments where active emissions could interfere with other equipment.
3. Fast Response Time: Photoresistor flame sensors can provide a fast response time when detecting flames. The change in light intensity caused by the flame can be detected almost instantly by the photoresistor, allowing for quick detection and response to fire hazards.
4. Simple Circuitry: The circuitry required for a photoresistor flame sensor is relatively simple. This can make the overall system design less complex, which is particularly beneficial in applications where space and resources are limited.
5. Low Power Consumption: Photoresistors consume very little power, which is advantageous in situations where energy efficiency is a concern. The low power consumption makes them suitable for battery-operated devices and other low-power applications.
6. Reliability in Certain Environments: Photoresistor flame sensors can work reliably in certain environments where the ambient light conditions are stable. They can be effective in detecting flames in controlled indoor environments or where there are consistent light sources.
7. Ease of Integration: Integrating a photoresistor flame sensor into existing systems or equipment is generally straightforward due to their simple electrical interfaces and compatibility with common microcontrollers and electronic components.
8. Early Fire Detection: Photoresistor flame sensors can detect flames at an early stage, which can be crucial for fire safety. Detecting fires early can provide more time for evacuation and fire suppression measures, potentially preventing extensive damage and loss.
9. Maintenance and Calibration: Photoresistor flame sensors typically require minimal maintenance and calibration, making them suitable for applications where regular upkeep might be challenging or costly.
FAQ:
Q: What is a photoresistor flame sensor?
A: A photoresistor flame sensor is a device that uses a photoresistor (also known as a light-dependent resistor or LDR) to detect the presence of flames or fire. It operates based on changes in light intensity caused by the flames.
Q: How does a photoresistor flame sensor work?
A: Photoresistors change their resistance based on the amount of light they receive. When a flame is present, it emits light that falls on the photoresistor. This causes its resistance to decrease, which can be detected and used as an indicator of the presence of a flame.
Q: What types of flames can photoresistor flame sensors detect?
A: Photoresistor flame sensors are typically sensitive to a broad range of flames, including those produced by candles, gas stoves, lighter flames, and other open flames. However, they might not be as effective at detecting flames in outdoor environments or situations with strong background lighting.
Q: What are the advantages of using photoresistor flame sensors?
A: Some advantages include simplicity, cost-effectiveness, fast response time, low power consumption, ease of integration, and reliability in controlled environments. They also provide early fire detection and require minimal maintenance.
Q: What are the limitations of photoresistor flame sensors?
A: Photoresistor flame sensors can be susceptible to false positives caused by other light sources, might not work well in outdoor or varying lighting conditions, and could miss flames that are not directly visible to the sensor.
Q: Where are photoresistor flame sensors commonly used?
A: They are often used in indoor environments such as homes, offices, and laboratories for early fire detection. They can also be integrated into appliances like gas stoves and water heaters for safety purposes.
Q: How reliable are photoresistor flame sensors?
A: The reliability of photoresistor flame sensors depends on the specific application and environmental conditions. In controlled indoor environments with consistent lighting, they can be reliable. However, they might not be suitable for critical or outdoor applications with varying lighting conditions.
Q: Can photoresistor flame sensors be used in industrial settings?
A: While they can be used in some industrial settings, their effectiveness might be limited by the presence of strong background lighting, changing lighting conditions, and the need for higher precision and accuracy.
Q: How do I mitigate false positives with a photoresistor flame sensor?
A: Using proper shielding to block out extraneous light sources, positioning the sensor to minimize interference, and implementing algorithms that analyze patterns of light intensity changes can help reduce false positives.
Q: Can photoresistor flame sensors be used as the sole fire detection method?
A: In some applications and environments, yes. However, in critical settings or those prone to false positives, combining photoresistor sensors with other fire detection methods (such as heat or smoke detectors) can enhance overall fire detection reliability.